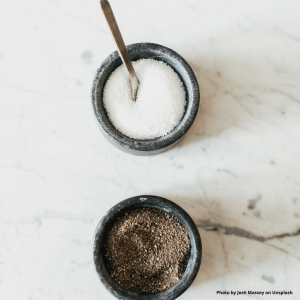 I was having dinner with several of my friends when I laid my phone face down at the table. One side of the table was pressed against the wall much so that there isn't enough space to rest my backpack against it.
An item caught my eye as I was settling down my phone: a small glass-like dispenser with a perforated screw cap. Inside it was a white crystalline-like substance. I picked it up, put some in my palm and tasted it.
One of my friends asked why I did it. It's a polite way of saying, "How can you be so stupid and not think it's salt?"
How Assumptions Are Made
We all make assumptions about anything and everything – the weather tomorrow, whether or not a part fits an assembly, the root cause of a problem, etc. More often than not, the assumptions we make are based on our experiences.
As a response to the question, I proceeded to tell a story about the time when my mom hired painters to work on our house. As they were taking a break, one of the guys decided to make himself coffee. Busy chatting with the rest of the folks, he instinctively grabbed a "small glass-like dispenser with a perforated screw cap",  took off the cap, poured the "white crystalline-like substance" in his cup, stirred his coffee with a teaspoon and took a sip. I'm glad I was not anywhere near him or I would have been a casualty of a salted, hot coffee firing off his mouth. This despite the fact that the sugar dispenser was sitting beside the salt dispenser, albeit they look exactly the same but with no labels to distinguish one from the other. I haven't forgotten that experience. And it happened more than 25 years ago.
The goal of making assumptions is to simplify a problem with the intent of solving it faster. It also proves that we don't know much about the thing at hand but would like to move forward with the limited information that we have. In the case of the "small glass-like dispenser with a perforated screw cap" sitting beside my phone, anyone could have easily assumed it to be salt. But because my friend ordered coffee first, it could have been sugar. Hence, M.C.T.V.
Dealing with Assumptions
Whether you are troubleshooting a database performance issue, thinking of changing careers, pursuing a goal or anything you can think of, we go thru these steps when dealing with assumptions.
I knew at the back of my mind that it was a salt dispenser that I was holding. But I knew I could also be wrong. I might as well test my assumptions. I did the same thing with the other dispenser that contains a gray, powder-like substance. It could have been nutmeg. Can you blame me? They served the coffee first.