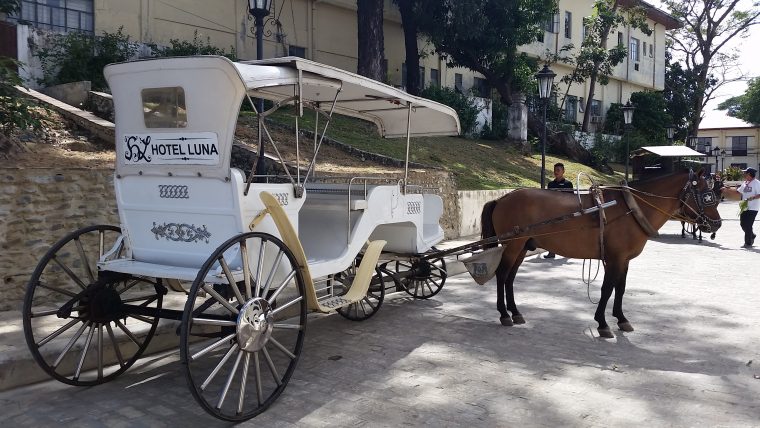 "Your life does not get better by chance. It gets better by change." – Jim Rohn
Earlier this year, we had the opportunity to visit Vigan City in the Philippines. It was designated as a UNESCO World Heritage Site in 1999 and recognized as one of the New 7 Wonders Cities in 2015. One of the highlights of our trip was taking a ride on the kalesa – a horse-drawn carriage used in the 18th century during the Spanish era.
I've seen kalesas growing up and even had a chance to ride a few of them. So, I kind of knew what to expect when we booked a kalesa ride to see Vigan City. What I didn't expect was how the kutsero – the kalesa driver –  that I know of evolved right before my very eyes.
Improving Skills With The Changing Times
Typical tourists would take interesting pictures of the city. And with the proliferation of mobile phones and handheld devices, its no surprise to see a wide variety of smart phones – from the latest iPhone to the GoPro Hero series. I haven't even mastered the different camera-specific features of my phone to take really good pictures. So, when the kutsero volunteered to take our picture, I was intrigued. He inspected the phone for a few seconds before he began shooting.
His shots were amazing. He knew what he was doing. He even made use of the motion panorama mode on my wife's Samsung Galaxy S7 phone. I was really impressed.
As he was driving the kalesa, I asked how he learned how to use the motion panorama mode feature on the Samsung phone. He told me about how he watched YouTube videos to learn different things while waiting for customers. He tried to learn how other owners used their phones to take pictures – be it an iPhone, a Samsung or a GoPro. This despite the fact that he only owned an old Nokia 255 phone with very basic features.
He also told me that when he started driving a kalesa, his main purpose was to provide transportation. But when the number of motorized vehicles increased, the demand for his services decreased. So, he had to make a choice: stick to what he was doing or try something different but still related. That's how he got into becoming a tour guide – driving the kalesa while taking tourists around the city.
Being a kalesa-driving tour guide required more than just utilizing his existing skills. He learned about the city's history. He read fun facts about the local culture. He became an expert of the city. He also learned how to become a really good storyteller.
As he interacted with more tourists, he noticed that they took pictures – either with a digital camera or with smart phones. That's when he decided to learn how to take great pictures and know how to use the different mobile devices that he encountered.
He knew what his customers wanted and was willing to provide it to them.
Providing A Better Experience
We stopped at the Hidden Garden of Vigan to see the botanical garden and to grab some snacks. The pathway to the garden was narrow that the kalesas have to be parked at a certain spot. We got off the kalesa and headed towards the garden. I noticed several other kutseros chitchatting while waiting for other tourists. What I didn't realize was that our kutsero was just right behind us, offering to take a picture as we posed near the entrance.
He was very helpful. He didn't have to take us around the garden since there are dedicated staff available. Yet, there he was – always volunteering to take our pictures and whispering bits of trivia about the garden.
We sat down to grab some snacks after completing the tour of the garden. Curious as always, I asked why he was so helpful. He pointed to the group of kutseros waiting outside of the garden. He said that majority of them don't get a lot of tourists as customers. In contrast, he was always booked. His customers come from recommendations. Word of mouth at its best. But it's very obvious. He provides a great experience to his customers. He goes above and beyond what a kalesa-driving tour guide needed to do. And while we spoke the native language, I bet he can communicate well with foreigners in English.
As we concluded the tour, he apologized for not having a business card available. His stack ran out and is currently looking for a new printer. He expected his supply of business cards to come in a week.
For a kalesa-driving tour guide who only finished high school, he taught me a lot about career and business success.