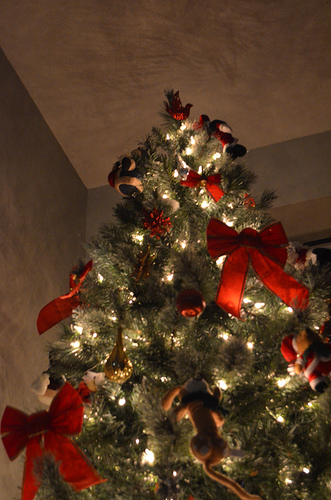 Now faith is the substance of things hoped for, the evidence of things not seen.
As I watch my kids unwrap their Christmas presents, I can't help but be emotional about the experience. There's really something special about a family gathered under the Christmas tree. This happens to be our very first Christmas here in Canada ever since we moved here back in 2008.  The Christmas tree, however, has now been gracing our living room on it's second year. But I can still remember setting it up last year because my kids were asking why I was crying while setting it up. You see, it was our very first Christmas tree. While most people won't be as emotional as I am setting up their very first Christmas tree, this one is different. It happens to be our very first Christmas tree after 9 years of being married.
I remember setting up our Christmas tree when I was a kid. I did not come from a well-off family but my mom made sure we had everything we needed growing up. When my wife and I got married back in 2001, we've made a conscious choice to stick it out no matter what. We didn't have anything when we started but were very happy we had each other.  But it was really hard back then. I remember sleeping beside my wife in a bed that's just a bit larger than a single bed, with a cushion that's roughly 2 inches thick, while my eldest slept in the stroller.  I remember the sleepless nights caused by buzzing mosquitoes and a temperature of 37 C (98 F) coupled with very high humidity, the 20-cent meals that my wife and I shared, and the long walks we needed to take because we didn't even have enough change to take the bus.  We didn't even think about Christmas trees back then. But we definitely shared good laughs and dreams of having at least a comfortable life.  We talked about how we wanted to have a house we can call our home, a car to take the kids to and from school and the opportunity to share our blessings to others. They have been dreams seasoned with faith and hoping that, one day, will come to pass.
I think one of the most difficult thing to do for all of us is to wait. The advances in technology has given us the ability to get everything fast – NOW. From the instant coffee to the burger at the McDonald's drive-thru, the single-click option at Amazon and everything else we can think of. The wait becomes a bit more challenging when we can't see the horizon and the future looks a bit dark. That's why it is important to keep the faith. Faith, as the Holy Book defines, is the evidence of things not seen. We humans are visual creations that's why it's easy to appreciate things that we see with our eyes. But faith requires us to close our eyes and see beyond what are visuals can perceive. It means looking beyond our current situation – whether good or bad – and see what lies ahead. When you don't know where to get food for your next meal or the next job that you need to take after getting laid off, faith lights a small fire of hope. Fan the flame and don't let anything blow it out. The wait may be a struggle, I know it has been for me. But don't let faith and hope die out on you. It could spell the difference between life and death.
This Christmas, I encourage you to keep the faith and continue to hope. The wait could be just a few days, a few months, 9 years like mine, or even longer. The Prince of Egypt, Joseph, spent 13 years both in Potiphar's house and in prison before becoming second-in-command next to Pharaoh. I bet it wasn't a pleasant waiting experience. But he waited, nonetheless. Because he kept the faith and never lost hope. So, while you open the last box under your Christmas tree, take a few moments to pause and reflect. Give yourself the gift of faith and hope for the coming year. Now, open the box. It could have been what you've been waiting for all these time. And keep a box of Kleenex handy.
Merry Christmas.
Santa on a Christmas tree, by bassplayerdoc on Flickr